RARELY AVAILABLE
STUNNING DETACHED PROPERTY LOCATED IN SOUILLAC, LOT
CURRENTLY PROVIDES A SEPARATE THERAPY SUITE 180 M2, PARKING AND SEPARATE ENTRANCE WITH FABULOUS  3 BEDROOM VILLA SET OVER THREE FLOORS c400 M2
STUNNNING GARDENS AND WOODLAND c 4200 M2
A PERFECT BUSINESS AND FAMILY HOME, HOLIDAY RETREAT OR RENTAL INVESTMENT.
PRICED TO SELL AT ONLY €299,000 including agency fees  SOLD
Allowance should be made for all notarial, legal fees and taxes as appropriate.
Where is Souillac ?
Souillac is a commune in the Lot department in south-western France, on the river Dordogne. It is the site of the new Brive–Souillac Airport, which opened in 2010. The town hosts an annual jazz festival in July. The abbey church has famous Romanesque carvings.
Souillac is in the upper Dordogne Valley where the river cuts through the limestone plateau of Haut-Quercy, an historic name for the northern part of the Department of Lot. This is part of the Massif Central, an elevated region in south central France. To the north of Souillac lies the commune of Lachapelle-Auzac, to the east Mayrac and Pinsac, to the south Lanzac, to the south west Peyrillac-et-Millac and Cazoulès, to the west Orliaguet and to the northwest Salignac-Eyvigues, Borrèze and Gignac.
Souillac is a small market town, and is the hub for the area. This is an agricultural region which is known for its walnuts, strawberries and quiet, rural way of life.
Tourism and Transport
The town is on the main railway line from Paris to Toulouse and is about 15 km (9 mi) south of the Brive–Souillac Airport which has international flights. The most notable building in the town is the abbey church of Sainte-Marie. The domed roofs are similar to but rather smaller than those of Périgueux Cathedral. Fragments of the original Romanesque sculptures are grouped just inside the west door. Behind the abbey church is the Musée de l'Automate which has a large collection of mechanical figures and dolls.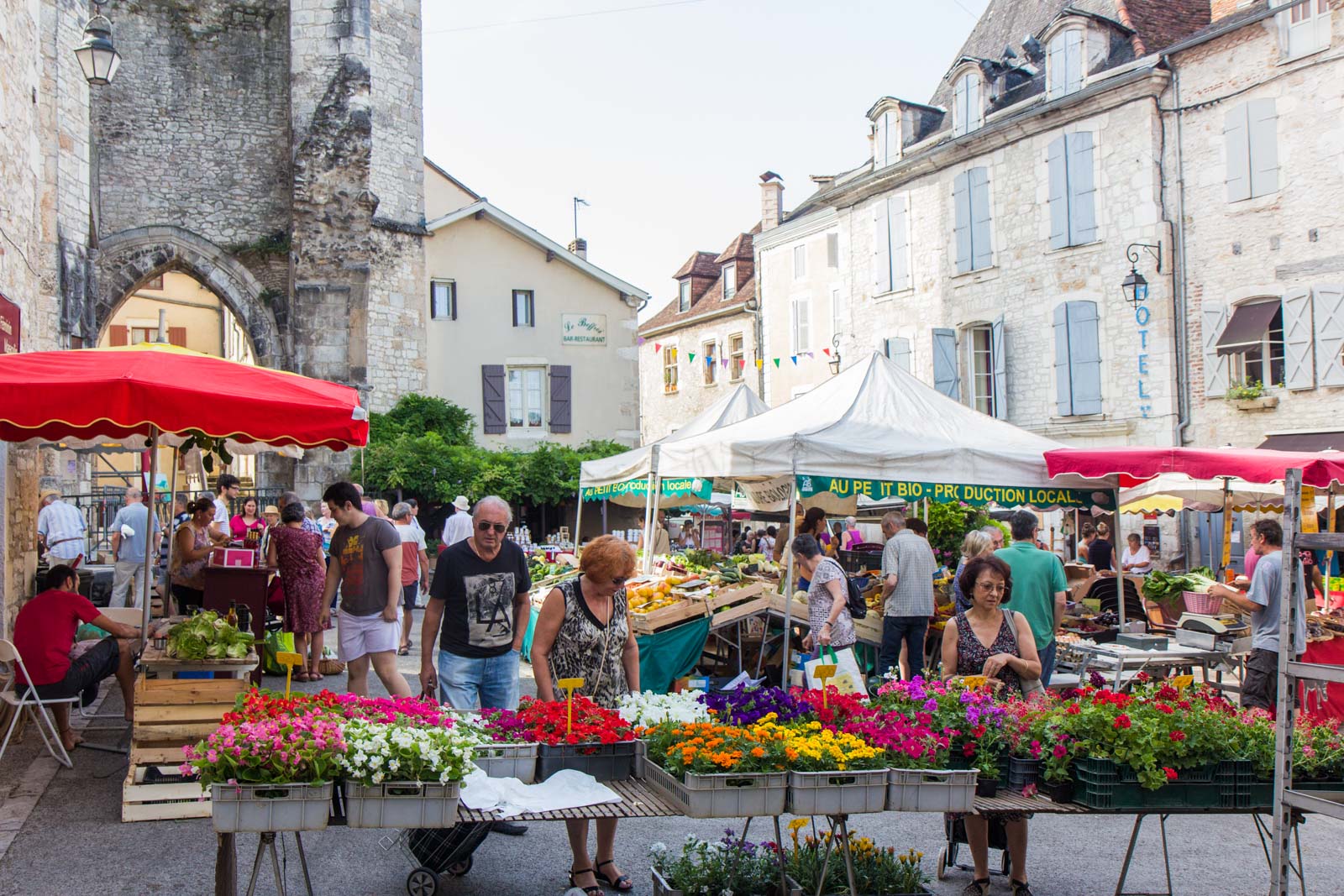 An international jazz festival is held annually in the town in July.4th. The festival was started in 1976 by a group of volunteers enthused by Sim Copans, a United States Army non-combatant in World War I who came to live in nearby Lanzac. The festival features live concerts and other jazz-related activities.
The Property
THE GATEWAY TO THE DORDOGNE
The house is a grand villa built in 1941 on a plot of 4200 sqm and the house has a total floor area of c 400 sqm. .  Built over three floors the property has enormous flexibility of space and use and currently provides a wonderful family home as well as a superb and independently accessed clinic/therapy suite .
The separate therapy suite has five treatment rooms and ancillary space, a separate entrance, and car parking for 7 cars
The main house has its own entrance, garaging/carport for two cars plus drive and splendid accommodation arranged over three floors with private terraces to some of the rooms.
The property is located in Souillac, the Gateway to the Dordogne region.  Souillac can be accessed from exit 55 of the A20, the main motorway from Paris to Toulouse. Souillac is 25 minutes from Sarlat, 15 minutes from Brive airport with flights to London Stansted, twice a week and Paris daily, plus flights to Portugal and several other destinations.  There is a major train station in Souillac with trains to Paris and Toulouse plus other connections and destinations. The beautiful university City of Brive is about 25 minutes away by road.
Treatment Suite
Currently used as a gym and treatment suite with five separate treatment rooms but could easily be converted for use by other professionals, subject to suitable approvals, such as doctor or specialist, dentist, chiropractor, physiotherapist or simply used as a home/office and others.
Currently it is used as a Physiotherapy Practice on the ground level. It is about 180m2, with parking for 7 cars in front and a separate entrance and gate to the property.
The rooms are all very airy, all ceilings are 3m high, the rooms are of a good finish and quality and the entire ground floor was done in 2017 and 2018. It has an entrance, waiting room with bureau, 5 treatment rooms about 12m2 each, exercise room of 55m2, toilet and shower with disability access, large storage room, and two smaller ones, boiler room for and oil storage and oil fired heater.
Main House
First floor:
Luxurious salon/dining room 800 sqm, with Stuv woodstove, kitchen which was renovated in 2017 with toilet and hallway, 36 sqm, master bedroom with private balcony, bathroom and dressing room , a total of 65m2.
The complete first floor was floored and redecorated in 2016 /17
   There is a beautiful grand wooden stairway which takes you to the second floor where you find:
Second Floor
There are 2 original bedrooms and two former bathrooms (unfortunately taken out by former owners and these have still to be refurbished.  All the bathroom connections are still there and the two former bathrooms can be used as bedrooms.
  Master Bedroom
Other bedrooms            
Gardens and Park
Outside there is what can only be described as a magnificent park, with established trees (30m plus) multiple terraces on the hill behind the house and even your very own cave set into the hillside.        
The park also has an second entrance with electric gate for the residential private entrance with carport for 2 large and one small vehicle/trailer.
General
The ground floor has double glazing, first and second floors single glazing but with the original detail retained and wooden shutters which provide perfect insulation when closed over the winter and protect from the searing heat in the summer.
Oil fired heater is not new but works just fine.
ALL IN ALL A REMARKABLE VILLA
A PERFECT BUSINESS AND FAMILY HOME, HOLIDAY RETREAT OR RENTAL INVESTMENT.
THIS REALLY IS A BARGAIN PRICE AT ONLY
€299,000 including agency fees but buyers should allow for Notaire, other legal fees and taxes.
SOLD
 ARRANGE TO VISIT AND VIEW TODAY
Location
souillac. lot, france
Contact
Message has been sent successfully.